U.S. stocks fell, with small caps bearing the brunt of selling, and Treasuries advanced as markets struck a tone of caution at the start of a week stuffed with catalysts. The euro gained.
The Russell 2000 Index sank the most since August and the S&P 500 Index retreated from a record amid reports that proposed cuts to corporate taxes would occur in phases over several years. Markets generally shrugged off the first charges from Robert Mueller's investigation. Apple Inc. rose on signs of strong demand for its latest phone, buoying the Nasdaq 100 Index. The company headlines another week of major earnings, with its report due Thursday.
Ten-year Treasury yields fell below 2.4 percent, with President Donald Trump's choice to lead the Federal Reserve due any day. The dollar slumped versus the euro, with the Fed, Bank of England and Bank of Japan slated to meet this week. In Europe, equities nudged higher, with markets showing little sign of distress as the Spanish government took control of the Catalan government. The British pound strengthened ahead of the BOE rate decision Thursday.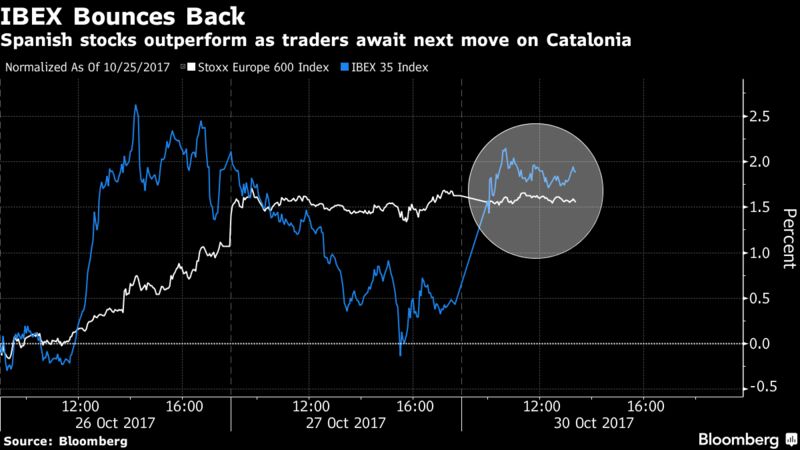 he federal investigation into whether President Donald Trump's campaign colluded with Russia took a major turn Monday as authorities charged three people, and could pose a danger to the White House at a time that Trump is working to push his tax plan through Congress. The phase-in plan for corporate tax cuts has been considered, but may not yet be final, said a member of the House Ways and Means Committee, who asked not to be named because the discussions are private.
"Smaller companies are more affected by those taxes than the larger companies and so they're going to be the ones that would benefit the most," Don Riley, Chief Investment Officer at Pennsylvania-based Wiley Group, said by phone. "That's why you see they tend to react more over the whole tax thing."
Elsewhere, equity benchmarks fluctuated in Japan and Chinese shares fell, with the Shanghai Composite Index tumbling the most in more than two months as the nation's bond slump deepened amid mounting deleveraging concerns. And profit reports due this week from some of the world's largest companies — including Apple Inc. — may show if there's enough juice in the earnings season to propel a leg higher for global shares.
Source: BloombergMarket
Original author: Jeremy Herron & Sarah Ponczek
Article Link: https://www.bloomberg.com/news/articles/2017-10-29/asian-stocks-poised-to-gain-on-growth-outlook-markets-wrap
If you have any related inquiry, please contact us at: 1-905-932-6880
[Total: 0 Average: 0/5]
You must sign in to vote