U.S. stocks rose with the dollar, while Treasuries fell as signs mounted that President Donald Trump's tough tariff talk may not translate into the most severe protectionist policies.
The Dow Jones Industrial Average added more than 300 points as megacaps that bore the brunt of the selling late last week led gains, while domestically-focused small caps lagged behind. The S&P 500 Index advanced for a second day after hedge fund billionaire Ray Dalio called the threat of a trade war "political show" and House Speaker Paul Ryan urgedthe president to reconsider tariffs on steel and aluminum. Trump when asked about the congressman's comment said he won't back down on trade.
Ten-year Treasury yields advanced toward 2.90 percent, while the greenback rose against most peers with the Canadian dollar leading declines. West Texas crude rose past $62 a barrel.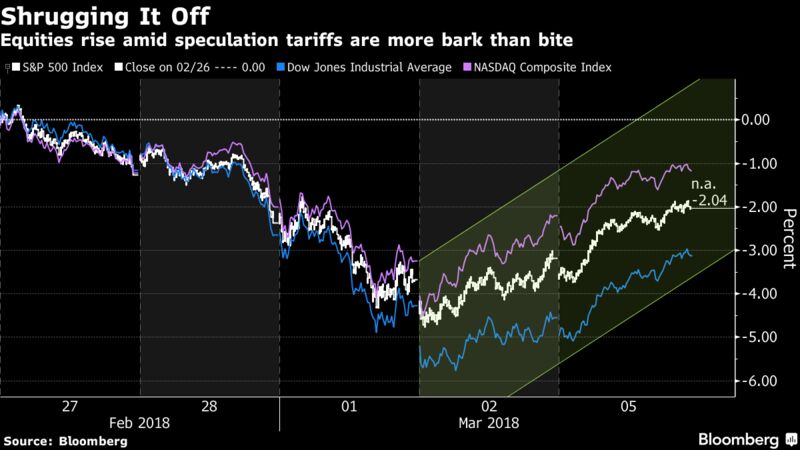 "The positive story today is the lack of anything bad happening," Kevin Caron, a senior portfolio manager at Washington Crossing Advisors, said by phone. "The bad news would have been if [Trump] announced more tariffs, or if there was some kind of reciprocal action from another country."
Trump's surprise announcement Thursday that he intends to implement tough tariffs on steel and aluminum imports roiled global financial markets. Trump kept pushing the protectionist stance in a series of tweets, even as leading Republican lawmakers and donors began to publicly question the wisdom of upending the global trading order.
In Europe, the broadest measure of the region's equities halted a four-day slide after a major breakthrough on the path to a German government. Italy's stocks and bonds were the standout losers as anti-establishment political groups surged in Sunday's election.
The Italian election result and Germany's move toward a coalition kick off a busy week for macro events. Both the Bank of Japan and European Central Bank will meet to decide on interest rate policy, while China hosts its National People's Congress.
Source: Bloomberg Markets
Original author: Randall Jensen
Article Link: https://www.bloomberg.com/news/articles/2018-03-04/asia-equity-traders-face-mixed-start-euro-climbs-markets-wrap
If you have any related inquiry, please contact us at: 1-905-932-6880
[Total: 0 Average: 0/5]
You must sign in to vote