Federal Reserve Chairman Jerome Powell says the link between unemployment and inflation may be resting rather than poised for a revival. The jobless rate's decline to a 48-year low will put that view to the test.
While unemployment fell more than forecast in September to 3.7 percent, the lowest since December 1969, average hourly earnings climbed 2.8 percent from a year earlier, slowing as projected from a 2.9 percent advance the prior month, a Labor Department report showed Friday. Hiring eased to 134,000, reflecting the fallout from Hurricane Florence, with 299,000 people being away from work due to bad weather.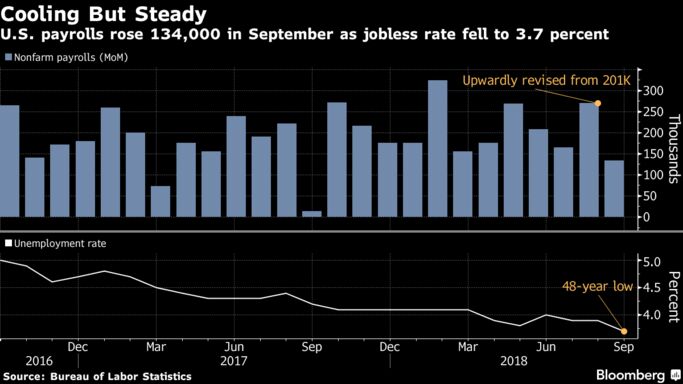 The figures suggest the job market remains tight — with hiring outpacing labor-force growth and perhaps pushing the economy beyond full employment — though it's yet to spark a significant acceleration in wages. The coming months will indicate whether pay gains and prices will finally surge in response to a historically low unemployment rate, a development Powell says he doesn't expect.
"The jobs report these days has become more about inflation than payrolls," and "the big picture should ease concerns about inflation," said Russell Price, a senior economist at Ameriprise Financial Inc. in Detroit. "Wages are creeping higher, not accelerating," he said, adding "this report should keep the Fed on their current course, of one hike per quarter."
The latest jobless-rate drop pushed it further below Fed estimates of levels sustainable in the long run, reinforcing expectations for a fourth interest-rate hike this year and more in 2019. While the trade war with China poses a risk, policy makers are likely to keep raising borrowing costs as President Donald Trump's tax cuts are juicing economic growth and supporting demand for labor, though employers are lifting worker pay only gradually.
Even so, the third-quarter annualized wage gain of 3.4 percent was the fastest of the expansion, and October is poised to register a year-over-year increase of above 3 percent, according to Michael Feroli, chief U.S. economist at JPMorgan Chase & Co. Analysts at Morgan Stanley made a similar projection, saying a post-hurricane monthly wage drop in October 2017 will make the annual comparison more favorable for the next reading.
(To be continued)
Source: Bloomberg
Article Link: https://www.bloomberg.com/news/articles/2018-10-05/u-s-payrolls-and-wages-cool-while-jobless-rate-hits-48-year-low
If you have any related inquiry, please contact us at: 1-905-932-6880
[Total: 0 Average: 0/5]
You must sign in to vote