The results underscore the gloom surrounding Hong Kong's trade market, especially in the key electronics segment, which suffered the biggest overall drop to 35.4 from 55.2 in the prior quarter, the report said. The sector makes up almost 70 percent of total merchandise exports.
The trade woes come at a tricky time as the city navigates the impact of a slowing economy in China while borrowing costs are likely to rise due to monetary policy being tied to a hiking Federal Reserve thanks to the city's currency peg.
"We cannot rely on monetary policy," said Iris Pang, Greater China economist with ING Bank NV in Hong Kong. "We have to rely on fiscal stimulus, and now is the right time for the Hong Kong government to spend its fiscal money."
Hong Kong's Dilemma Is What to Do With Its Massive Cash Pile
Pang cut her 2018 economic growth forecast for Hong Kong to 3.6 percent from 4.9 percent in August due to the trade war, and may slash her 2019 and 2020 targets as well if the conflict continues, she said. Pang currently forecasts 2.6 percent growth next year and 2.5 percent in 2020. Standard Chartered Bank and United Overseas Bank have also lowered their forecasts for this year.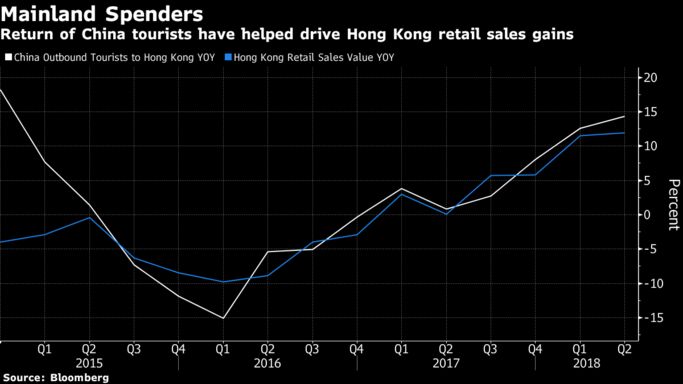 Aside from the direct impact on ports and logistics industries, an extended trade war could also impact retail sales and employment, Pang said. Year-on-year retail sales growth has been surging at rates in excess of 10 percent for most of this year, on the back of similarly strong tourist arrivals from the mainland.
Pang estimates as much as a third of economic activity in Hong Kong may be affected by the trade war, with local businesses running factories in China and exporting to the U.S. especially vulnerable. A weaker domestic economy, higher interest rates, and a dimmer outlook could all contribute to a turning point for the territory's real-estate market, among the world's most expensive.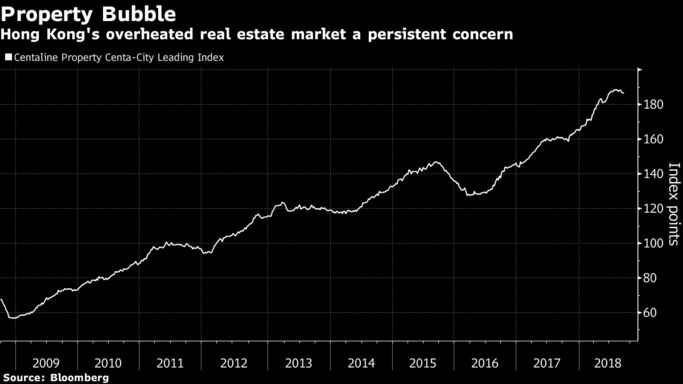 Edward Yau, Hong Kong's Secretary for Commerce and Economic Development told reporters Thursday that the city will have to prepare for an extended trade conflict as it doesn't appear the U.S. and China are headed for a speedy resolution.
"We therefore have to prepare for the worst and for this battle to be played long," Yau said. "The overall global trading environment is not in peaceful water."
Source: Bloomberg
Article Link: https://www.bloomberg.com/news/articles/2018-10-04/hong-kong-s-economy-gets-stuck-between-u-s-china-trade-war?srnd=economics-vp
If you have any related inquiry, please contact us at: 1-905-932-6880
[Total: 0 Average: 0/5]
You must sign in to vote